The Temescal Valley Water District
Always Great Water.
Nestled in the foothills of the Cleveland National Forest is Temescal Valley Water District, the local purveyor of potable and reclaimed water for residents within the Temescal Valley area. TVWD also provides wastewater collection, treatment and disposal for the Temescal Valley residents, including the Butterfield Estates and California Meadows communities.
Temescal Valley Water District obtains its water from the Metropolitan Water District of Southern California, who imports it from Northern California. The water is then treated at the Henry J. Mills Water Filtration Plant in Riverside, CA. This water is commonly called "State Project Water" and is one of the highest quality sources of water in the State.
Since it was originally formed as the Lee Lake Water District in 1965, many changes have taken place in the Temescal Valley and in the Water District itself. What was once land farmed for citrus crops is now home to numerous residential communities, businesses and industrial parks. However, the one constant over this period of time has been the local Water District and its commitment to provide personal, reliable and efficient service to its customers.
District Calendar
Jan
22
2019
Board Meeting
District Board Room, 8:30 a.m.
Jan
25
2019
Meter Read Date
Feb
22
2019
Meter Read Date
Feb
26
2019
Board Meeting
District Board Room, 8:30 a.m.
Money Saving Tips
Reduce monthly cost and help save the environment by utilizing these water saving tips for inside and outside your home.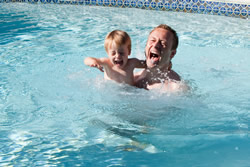 What If Calculator
Planning to fill up your pool? Use the What If Calculator to estimate the cost of your next water related project.
Water District News
UPDATE: Discolored Water
July 24, 2018
TVWD

Update to temporary discolored water event. The District conducted additional water quality testing and all results indicate that the water does not contain any contaminants. Our system is delivering high quality drinking water that exceeds drinking water standards. We again apologize for the temporary inconvenience and we appreciate your understanding. Please contact our team at TVWD if we can answer any more questions you might have.
Discolored Water
July 17, 2018
TVWD

On July 17, 2018 at approximately 3:15 pm our wholesale water supplier was performing routine meter calibration. As a result, we received substantially increased water flows into our water system. The high flows stirred up silt deposits from the bottom of the mainline that feeds our area. This action increased the turbidity (color) of the water in certain areas within our distribution system and resulted in some customers experiencing cloudy water. While your water may temporarily appear cloudy/discolored, any sediment in the pipelines is due to naturally occurring minerals and is not a health concern. We have been flushing the system of this turbid water and out of an abundance of caution we will be doing extra water quality testing to ensure that our water is always safe. The water in both our system and the wholesale system is high quality drinking water that exceeds drinking water standards.
We apologize for the inconvenience and thank you for your patience and understanding. In the event you see discolored or cloudy water, turn on a bathtub or outdoor faucet until the discoloration clears up (usually just a few minutes). Please contact the team at TVWD to let us know. If you feel that we should credit your next bill for water you flushed through your home or business to restore clarity give us a call so we can make an adjustment.
TVWD Water Report
Comprehensive Water, Recycled Water, and Wastewater Cost of Service Study
Temescal Valley Water District
Notice of Public Hearing
The Drought Update
BE WATER WISE
Outdoor Water Use Restored...Common Sense Water Restrictions Remain In Effect

The application of potable, non-potable or recycled water to outdoor landscapes that causes runoff, such that water flows onto adjacent property, non-irrigated areas, private and public walkways, roadways, parking lots or structures is PROHIBITED.
All residential and non-residential irrigation such as Parks, HOA maintained areas, recreation fields and school grounds shall be scheduled between the hours of 9 PM and 6 AM.
Related Documents:
Stage 1 and FSN newsletter 8-17-2016.pdf
Temescal Valley Water District Wants To Help You...
Save Water and Cash!
Meeting the water and wastewater service needs of the Temescal Valley since 1965