Special Notices
Attention: COVID-19 Update!
Important Notice to TVWD Customers
TVWD Response To COVID-19
These are unprecedented times! However, TVWD wants to assure each and every customer that your water supply is plentiful and safe! For more information on our response to the COVID-19 virus, please visit the following links:
The Temescal Valley Water District
Always Great Water.
Nestled in the foothills of the Cleveland National Forest is Temescal Valley Water District, the local purveyor of potable and reclaimed water for residents within the Temescal Valley area. TVWD also provides wastewater collection, treatment and disposal for the Temescal Valley residents, including the Butterfield Estates and California Meadows communities.
Temescal Valley Water District obtains its water from the Metropolitan Water District of Southern California, who imports it from Northern California. The water is then treated at the Henry J. Mills Water Filtration Plant in Riverside, CA. This water is commonly called "State Project Water" and is one of the highest quality sources of water in the State.
Since it was originally formed as the Lee Lake Water District in 1965, many changes have taken place in the Temescal Valley and in the Water District itself. What was once land farmed for citrus crops is now home to numerous residential communities, businesses and industrial parks. However, the one constant over this period of time has been the local Water District and its commitment to provide personal, reliable and efficient service to its customers.
District Calendar
Apr
28
2020
Board Meeting
Board Room, 8:30 a.m. Open to the public.
May
25
2020
Memorial Day - office closed
The District office is closed today.
May
26
2020
Board Meeting
Board Room, 8:30 a.m. Open to the public.
Money Saving Tips
Reduce monthly cost and help save the environment by utilizing these water saving tips for inside and outside your home.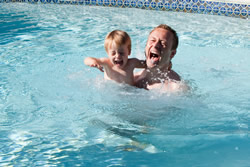 What If Calculator
Planning to fill up your pool? Use the What If Calculator to estimate the cost of your next water related project.
Meeting the water and wastewater service needs of the Temescal Valley since 1965